First let me say this – your real estate agent matters, a lot. They aren't all the same and performance will vary widely. Do you want your property to fester on the market or sell quickly for a high price?
Obviously the latter, so your search for a real estate agent should be taken very, very seriously. After all, your money is at stake here. And potentially lots of it.
How Do You Choose a Real Estate Agent?
The problem is how do you know who to go with? Do you call the real estate agent offering a reduced commission to save some bucks?
Or a real estate agent who sends you a flyer in the mail? What about the door knocking real estate agent who gives you a Frisbee with their grinning face on it or a company like REXchange?
I suppose it doesn't really matter the medium as long as you wind up with a competent agent who can get the job done quickly and efficiently.
But as with everything else, a disruptor is attempting to shake up the real estate agent discovery process to help home buyers and sellers connect based on actual performance, not just clever advertising.
HomeLight Uses Data to Pick Your Real Estate Agent
A new company called "HomeLight" is relying on big data (or maybe small data if you think about it) to find you a real estate agent based on your actual wants and needs.
And they believe this will result in a faster sale for more money, something everyone can agree is a good thing.
Simply put, they know what is good for you, even if you don't, though they do need some input from you as well to figure that piece out.
First, you tell them if you're buying or selling and choose your property's location. From there you'll see a big list of real estate agents that dwindles as you fine-tune your real estate agent search.
I inputted Santa Monica, CA and selling (as opposed to buying) and saw 2,248 agent results with so-called "Top Matches" already displaying the five best fits based on the very limited criteria I entered.
Then you choose a home value, beginning at $910k and under and going all the way up to $5 million plus. I assume this price range varies based on the property's location. I verified this using Salt Lake City, UT and this is indeed the case.
For SLC, the prices started at $100k or less and went up to $1.5 million or more.
Anyway, once you choose a value range, you select property type, such as condo, townhouse, or single-family home. And from there you're asked what's most important to you.
– Has lots of experience
– Gets me the best price
– Spends lots of time with me
– Can sell quickly
If you're buying, the "can sell quickly" option is removed and you just get the three remaining options above.
Once you get to that point, HomeLight will ask for your contact information in order to give you a list of agents. It'd be nice if you could just see the agents, but nothing is ever that simple, is it?
Once you relinquish your precious details, including name, address, e-mail, and phone number, HomeLight will send over your "personalized agent matches" along with the latest top agent matches as time goes on.
I suppose the list is always in flux because it relies on ever-changing data to rank the real estate agents. If one agent has a particularly good month, it could rise in the rankings. The opposite could also be true.
Once you get their matches, you can view their background, including geographic expertise, recent listings, education, customer reviews, transaction volume, and more.
Additionally, you can see how they rank across a variety of variables to determine their strengths and weaknesses.
It's probably recommended that you vet each match in person to ensure they're actually the right fit for you, instead of taking data's word for it.
HomeLight Data Platform
HomeLight claims its agents sell an average of 23 days faster, and if you're buying a property, save you an average of $23,000 per home purchase.
How do they do that, you ask? Well, they rely on a lot of publicly available data and some really smart people from schools you may have heard of like MIT, Harvard, and Stanford.
At last glance, they're analyzing objective data from over 18 million transactions and two million real estate agents.
Then they use "Bayesian statistical models" to determine which real estate agent will get you the best results.
Without getting overly wonky, the Bayesian technique relies on prior probability that is updated using new evidence (data) to come with a hypothesis, which would explain those questions it asks.
The takeaway here is that the final output is an objective list of agent results, as opposed to a list that is sponsored or paid for. Of course, agents do have to pay to play, though they can't rank higher than others by paying more.
There is no way to "boost" your HomeLight ranking, thankfully. Well, there is, but only through your own genuine efforts as a real estate agent I suppose. There are no tricks or schemes to manipulate the rankings.
The typical real estate finder model relies on who pays the most to get in front of your eyeballs, usually by spending lots of marketing dollars.
The HomeLight model gives you an agent based on pure numbers and performance, which could work out better for both the home seller and buyer. I suppose time will tell if it shakes up the current model.
By the way, if you're an agent, the cost of HomeLight is a 25% broker-to-broker referral fee if/when you actually close a deal that was gleaned from their platform.
They note that they work on quality over quantity because matches will be harder to come by seeing that they're actually data-driven, as opposed to just sending you referrals based on what you spend each month on advertising.
But the leads they do send are apparently "serious," so you may spend less time spinning your wheels as a real estate agent.
Homelight's Home Value Estimator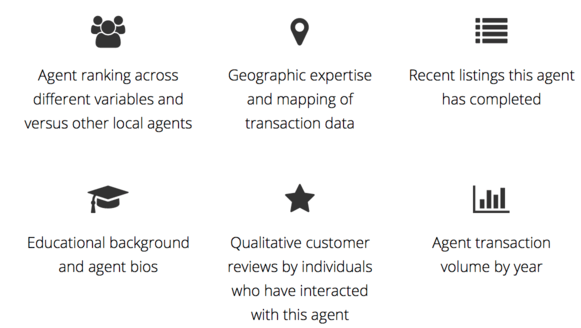 One of the company's latest features is its "Home Value Estimator," which seems to be a more robust version of the Zillow Zestimate or Redfin Estimate.
You input your address on their site, then answer a few simple questions, including whether your home needs any work or is perfect as is, to augment their data.
Then you have to enter your name, email, and phone number in order to receive the free estimate. Again, this means they can solicit you via text, phone, email, etc.
Assuming you continue, you'll receive a preliminary home value estimate, along with two options to sell your property.
Option A is known as the "HomeLight Simple Sale," which is an all-cash offer that doesn't require listing with an agent.
Instead, the property is sold to an iBuyer such as Opendoor, Offerpad, We Buy Houses, or Roofstock.
It's unclear if HomeLight earns a referral fee, and if they plan to become direct iBuyers themselves.
Option B directs users to list with a top real estate agent in their area via the main HomeLight agent referral business.
The sales price projections are higher via Option B, which is probably the point of putting them side-by-side.
Ultimately, they want you to use on their agent partners to sell your home traditionally so they can earn a piece of the commission.
Read more: Should I let my friend sell my home?