With homes becoming increasingly dated these days, many homeowners have been looking to add value to their properties by remodeling kitchens, bathrooms, and bedrooms, or by sprucing up the landscaping.
While there are a variety of ways to get more value out of your home, there are also a number of pitfalls that will often end up costing you more than what you'll get out in the event of a sale.
Think of ways to improve the look and quality of your home without breaking the bank.
Small additions or even omissions (getting rid of clutter or bad design flaws via home staging) can boost the value of your home and make it a hit. Let's look at some of the good and bad home improvements.
Best Home Improvements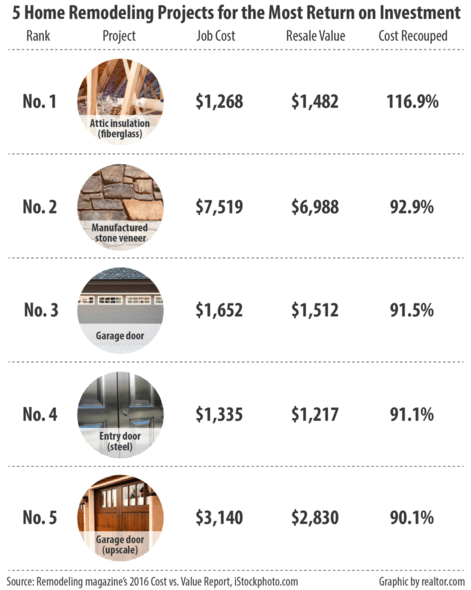 First we'll look at what makes sense to spruce up in order to get more value out of your home.
Remember, aside from these ideas, you can add style and grace with a vase of flowers or even a new rug.
Think of home buyers as guests visiting your home. How do you prepare your home for family and friends to make a good impression?
The graphic above comes from Realtor.com, based on an annual study from Remodeling magazine.
As you can see, attic insulation is the big winner, though it's kind of silly and in the real world might be hard to quantify.
The other near-winners (and marginal money losers) are listed above. I personally look at things differently and try to make small, inexpensive changes to boost a property's saleability.
While the value boost might be not easily quantified, the property might sell a lot faster and/or get multiple bids.
Cabinets and Kitchen Countertops
Who could leave out these perennial home improvement favorites?
Cabinets and kitchen countertops are the most sought after home improvements out there. They have been for years, and will continue to hold the number one spot in the future.
Marble (now granite) countertops add elegance and freshness to an outdated kitchen, while new cabinets, although expensive, will make a kitchen look like new.
Kitchens are still one of the most important spaces in a home, so make sure they're in tiptop shape when it comes time to sell your home.
You can also add new vanity tops to existing vanities in the bathrooms for a couple hundred bucks. Couple them with new faucets and knobs and your bathroom might look brand new for just a few hundred dollars.
Curb Appeal
Fixing up the exterior of your home is generally always a good idea. From landscaping to a new coat of paint, a picture says a thousands words.
And the first thing homeowners will see is often the exterior of your home, either in picture form or in-person. If they don't like the look of the exterior, you may never have a chance to show them the interior…
Make sure the exterior of the home is neat and tidy, with no obvious obtrusive items lying about.
Also check to see if paint or stucco is dull, chipped, or cracking. Fixing these things can boost the value of your home to potential buyers.
Even a few flowers in the garden, or some fresh sod can turn things around and invite more buyers. Curb appeal is real!
A new welcome mat, sweeping the area, removing cobwebs, the list goes on. All the little things can cost next to nothing but make a big difference.
I think this category has the potential to yield the best ROI if done properly.
Master of the House
Pay special attention to the master bedroom, as it's one of the most popular rooms in the house, and one a potential buyer will have theirs eyes all over.
While you're at it, you may want to give it a different name, as master is no longer seen as an appropriate term to some.
Anyway, a fireplace, a private balcony, or a roomy bathroom will help the most spacious bedroom in your home live up to it's name. And don't forget closet space!
Patios and Decks
Keeping in line with the exterior of the home, patios and decks are increasingly important aspects of the marketability of a home as well.
If you ever watch those DIY shows on television, you'll likely see the designers add a deck, patio, or outdoor living space.
These are especially important in smaller homes and condos, where an outdoor space can really boost the feel of the overall living space.
Home buyers love outdoor living spaces, and the addition of such a space is markedly cheaper than creating a similar space indoors.
Most luxury homes also demand these areas, so make sure you're covered, literally.
Renovate a Basement or an Attic
You may have a room over your garage, or a basement below your home that is cluttered and filled with junk.
For a reasonable amount of money, you can have that area cleaned up and redesigned. Or just do it yourself.
The result will be more living space, and possibly even another bathroom and bedroom to add to your suite of house highlights.
Just make sure the addition is feasible, and not just another cramped space or stuffy storage room posing as a bedroom. Take the time to do it right to ensure it's actually adding value.
Worst Home Improvements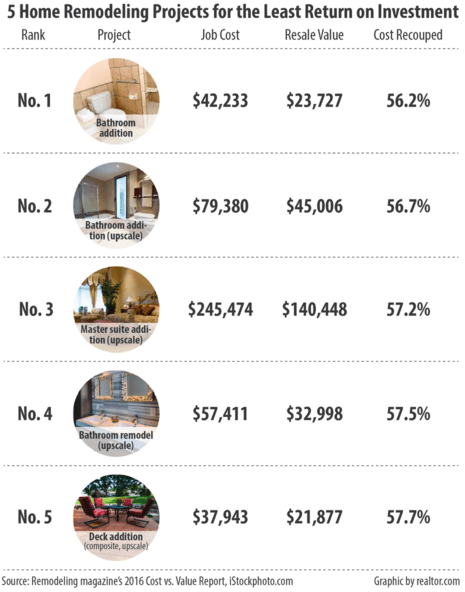 Above is the bad list from Remodeling magazine. Again, take it with a grain of salt.
I don't think it costs $60,000 to redo a bathroom, even a nice one. Shop around for a reasonably-priced contractor.
If you're smart, you can upgrade many of the items and make it look brand new for a couple grand.
This can include a new toilet (even toilet seat), new knobs, faucets, towels, wall art, etc. Remember, it's all about appearances here.
Now take a look at some of the more costly and ineffective home improvements that are typically unnecessary and rather expensive procedures that yield little if any new value to your home.
A New Roof
You may be thinking that the exterior of your home looks pretty good aside from the roof.
But before you think about getting it replaced, understand that you'll likely lose money on the deal.
The cost to replace a roof is very expensive, and most home buyers don't pay much attention to it aside from the leak factor.
If the roof is sound, don't worry about the design and quality. It likely won't be a deal breaker, so don't bother revamping it if it's not faulty.
But if there are leaks, obviously address them, as you could lose real money from the problems they create.
Custom Design
You may think it's super cool to put in a 300 foot aquarium, or a giant wine cellar, but what if your buyers aren't interested in those things?
Extravagant ideas are good for movie stars, but bad for the common homeowner.
Rumor has it Nicholas Cage once had a giant Komodo dragon cage installed in his San Francisco home, which made it very difficult for real estate agents to sell the property after he moved out.
Keeping it simple is the name of the game. Useful additions are common utilities that everyone can use.
When it comes down to it, most buyers aren't going to make an offer on your home because of something quirky that you spent a ton of money on.
Fancy Technology
Sure everyone needs a stove, oven, fridge, and a doorbell, but not everyone wants or needs a hi-fi stereo system running through the entire house or an in-home movie theatre.
Aside from the high cost of such applications, most will be outdated by the time you sell your home.
Think high-end kitchen appliances like Sub-Zero and cheap add-ons like Nest thermostats and Ring doorbells, not an elevator or marble pillars.
Shiny Swimming Pools
While they may be a lot of fun and a blessing during the right time of the year, swimming pools are rarely additions that translate to better value when selling your home.
In fact, you're pretty much guaranteed to lose money by adding a pool to your home.
It's not to say that pools are a bad thing to have, they just shouldn't be built as a means to boost the value of your home.
This is especially true in some areas of the country where pools are more of a nuisance than a welcome addition.
At the end of the day, most home improvements won't give you a positive ROI, but often times the improvements aren't just for resale value.
They are for you and your family to enjoy while you live in the home, which could be for many years to come.
But if you're doing it because you think it'll boost your home's value, research the potential value of the improvement first. And know its value will vary based on what region of the country the property is located.
If it's a flip house, you really need to watch your costs and buy intelligently to avoid losing money and making a bad investment.