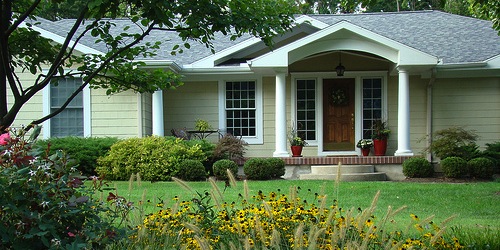 Real estate Q&A: "What is curb appeal?"
You've probably heard the term a thousand times, especially if your home is already listed and you're working actively with a real estate agent. Heck, I think there's even a show called, "Curb Appeal."
Simply put, curb appeal is the look of your home's exterior based on a prospective buyer drive-by.
The key to selling a home is to give your home "curb appeal" so if a potential buyer were to see your home while passing through the neighborhood, it would catch their eye.
For the record, curb appeal can also be seen in photos, so when potential buyers scour the Internet for listings, you'll want yours to stand out so they actually make the effort to come see it!
There are a number of ways you can give your home curb appeal without going broke. Let's look at the common ones.
Landscaping
A properly groomed lawn is paramount if you wish to sell your home for top dollar.
Make sure the grass is green and evenly trimmed, and plant some fresh flowers to give your home an even brighter look.
You may even consider removing some unappealing bushes or an overbearing tree. Whether the job is major or minor, landscaping has a proven track record of increasing the value of your home.
Just make sure there aren't any landscaping tools left out in the yard as they can negate the changes you've made.
Lighting and Entryway
You want your home to look inviting, so potential buyers will be chomping at the bit to get a chance to view your home.
If you brighten your home with new Malibu lights or lanterns, as well as clear the entry way or highlight it in some way, buyers will be even more interested in seeing your home.
Flowers, lights, and even props that match the theme of your home leading up to the front door can have a big effect without breaking the bank.
Paint and Windows
Let's face it, a lot of old homes have old windows, and a lot of times it's very obvious.
Windows may have sun damage, cracks or bubbling, and rusty old frames.
The paint on the siding of your home may also be chipped, cracking, and out of date.
For a relatively small amount of money, you can replace your windows and get a new coat of paint to modernize your home.
These changes can really frame your home, and give it the finishing touches needed to wrangle in a new owner.
Driveways, Garage Doors, and the Porch
While the three of these items can add value to your home, they can also show wear and tear that can suck the value out of your home.
By updating these aspects of your home, you can increase the selling price of your home dramatically.
If you have a driveway full of potholes and crumbled asphalt, consider at least filling in the holes and smoothing out the imperfections.
If your garage door needs a new paint job or a new coat of oil, by all means get it done.
If the battery no longer works, see what you can do to get the garage door back in working order.
Some people insist upon parking indoors. And finally if you have a nice porch, highlight it with new paint, colorful plants and perhaps even some new furniture.
Online Curb Appeal
While traditional curb appeal has been around for decades, so-called "online curb appeal" seems to be an emerging trend for home sellers these days.
Essentially, it boils down to making your online listing look as good as it can to bring sellers to your home in the real world.
This is accomplished by taking professional photographs of your property, along with compiling them in the most effective manner.
For example, you might find that the best photo is of your kitchen, as opposed to the front of your house.
A savvy real estate agent might recommend that you use that kitchen photo as your primary one to lure in prospective home buyers.
At the same time, you may want to downplay any photos or parts of the home that might be less appealing to buyers.
So there's a bit of strategy involved here because most home buyers are starting online these days.
If they don't get past your online listing, they may never see the fresh flowers you planted, or smell the fresh-baked chocolate chip cookies you made for the open house.
Remember, simple changes can boost your curb appeal and make selling your home faster and easier, and at a higher price.
Read more: What is home staging?
(photo: one2c900d)