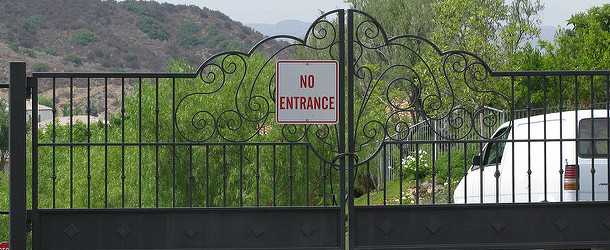 When you think of a gated community, what comes to mind? Probably things like safety, security, exclusivity, celebrities, expensive homes, and more. But what else lies beyond those gates? And is a home in one of these neighborhoods the right fit for you and your family?
Let's explore some of the pros and cons of gated communities to get a better idea of how things operate behind the wrought iron columns. There might be some issues you overlook, which you may not realize until after the fact.
Privacy and Security
The biggest perk is privacy and safety
And perhaps a lack of solicitors
Since only residents and invited guests can enter the gates
But crime still happens in gated communities
Gated communities provide a lot of benefits to the residents that live within them, though the amenities don't come cheap.
The number one reason people choose to live in gated communities is likely the security element. Because a gated community is private, it is more difficult to access than a standard community.
Criminal activity is reduced in gated communities, and solicitors will have a more difficult (if not impossible) time bothering residents. In fact, the only solicitors you'll probably get will be neighborhood kids trying to sell you magazines and girl scout cookies.
This is clearly a beautiful thing if you've ever lived outside a gated community and dealt with crime and/or solicitors. Of course, there is a cost associated.
And there's no guarantee you won't be the victim of crime in a gated community. The gate only acts as a deterrent, not a foolproof solution. So you should still keep your doors locked and valuables out of sight.
Also note that some gated communities merely have an automated gate with a keypad, while others have live guards. The latter will be more expensive, but also provide much more security.
Traffic Free
Gates also limit through traffic
Which means commuters shouldn't bother you
The streets may also be quieter and safer for your family
And homes should be uniform and better kept
Traffic and speeding cars are also reduced behind the gates, making it quieter and safer for children to play and ride bicycles within these neighborhoods. You likely won't have the morning commute using your street as a shortcut either, as much as they may want to.
Another positive aspect of gated communities is a higher standard of home quality, and stricter building codes that promote uniformity in design. That means more comparable sales and better value for all the homeowners within the community.
You shouldn't have to worry about that weird neighbor with the bizarre lawn display or unkempt yard.
Homeowners in these neighborhoods also generally have a higher pride of ownership, and keep their homes in better condition. Along with that, gated communities create a scarcity effect, with few homes within these neighborhoods typically available for sale at the same time, adding more bite to the value.
There may also be social benefits, such as a community center or events that promote group activities for families to get to know each other.
Expensive Home Prices and HOAs?
The obvious downside is a more expensive home
Which can eventually turn into a positive if you're able to afford it
You may also be subject to pricey HOA dues
To maintain those gates and added security
Let's talk about the downsides of gated communities, shall we.
For one, or I suppose two, gated communities often come with high asking prices and costly HOA fees to pay for things such as gate guards, private security, roads and maintenance.
Most roads are designated private, so you may have to foot the bill to fix those potholes or repave a bumpy road on your own dime. Good luck negotiating with your neighbors.
As far as security goes, the safety of gated communities is dependent upon the quality of the system in place, as well as the surrounding areas. And there's a good chance the community won't be patrolled by a sheriff unless the HOA approves such action. Or if the gated community is an actual city. Most aren't…
Not all gated communities have live guards either, and automated gates aren't very difficult to breach once someone gives out the code to the pizza delivery guy.
That being said, crime still occurs in gated communities and you shouldn't let your guard down just because there's a nice little fence around your community. Heck, the neighborhood kids could be the ones stealing from you…
The rare gated community that happens to be a real city, such as Hidden Hills, California, will have a police presence, meaning you will need to stop at those stop signs and not speed to avoid getting a real ticket.
The upside is that the cops are there to keep an eye on things.
Waiting to Get In…
Here's one thing you may have overlooked
It can be a real pain waiting in line at the guardhouse
Especially during holidays or if you get a new car and it doesn't have the sticker yet
Anyone that comes to your home will also have to be added to the list and visiting hours may be limited for contractors and other workers
Assuming the gate is in fact guarded, visitors and contractors may get aggravated waiting in line to come to your home.
Yes, your family and friends may have to wait during busy periods, and you'll likely need to call down to the gate every time a visitor is expected. This can be especially problematic on holidays when all the in-laws are visiting…
And many gated communities limit the time contractors can come work at your home, and may block them altogether on holidays.
Gated communities are also typically located farther away from businesses and other services, making the commute a bit longer just to drive out of your neighborhood every day.
For example, it could take five minutes of driving just to exit the gates and get back into the real world.
Also watch out for properties located just inside the gates, or within view of the gates, as they may see a dip in value for obvious reasons. Gates might be a value-add, but not when you can see them out of your kitchen window.
While these may not seem like serious issues, HOA fees alone can make affordability a problem. You thought your condo's HOA was expensive?  Try a gated community.
At the same time, if you do get your hands on a home in a gated community, there's a good chance your home will appreciate nicely in the years to come. So it could be well worth the price, not to mention the quality of life for you and your family.
Even if you don't live in a gated community, you can always build a gate around your own property or purchase a condo in a secured building. It's certainly nice to have some layer of security between your living space and the outside world.