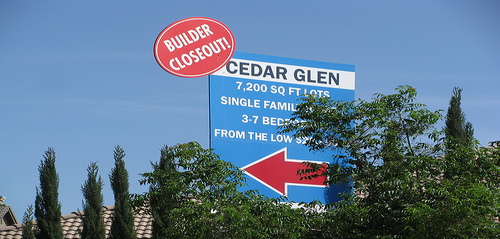 More real estate Q&A: "Are home prices still falling?"
Lately, a lot of Americans have been wondering if the home price carnage is going to continue throughout 2009, or finally turn around now that's there been an uptick in home sales.
While there has been a rise in both existing and new home sales over the past few months, the data must be taken with a huge grain of salt.
Before you get too excited, it's important to understand that mortgage rates are hovering seem all-time lows thanks to government intervention and spending.
Additionally, there's the homebuyer tax credit to take advantage of, along with the fact that were right in the thick of the homebuying season.
Sales are also being compared to some dismal numbers, both the early months of this year and sales from last year, which have been pretty abysmal compared to everything on record; so if home sales weren't up, it'd be a disaster
So what's all this news about the median home price rising in some markets?
Well, some cities have experienced month-to-month improvements in median home price, but home prices in many areas are still dropping as well, including hotspots like Las Vegas and Miami.
Of those cities that have experienced increases in median home price, much, if not all of it, can be attributed to a shift in what's actually selling.
Most of the home sales over the past year have been distressed properties, mainly foreclosures selling at the low-end of the market.
As a result, the median home price was dragged down artificially, meaning home prices looked as if they plummeted, but it's really just an exaggeration.
Unfortunately, the reverse is true as well, with recent median home prices in California and some parts of Arizona only climbing because more expensive properties are selling.
This pushes the median home price higher, but it's really just a reflection of more expensive homes being sold out of necessity by those unable to make mortgage payments or facing unemployment.
Looking forward, home prices will probably continue to fall thanks to rising unemployment numbers, coupled with a housing inventory (much of it held off the market by the banks) that is still too large to substantiate current prices.
Of course, real estate is local, and home prices can rise and fall in different parts of the country at different times, so it's important to research your own area and not worry so much about the national figures.