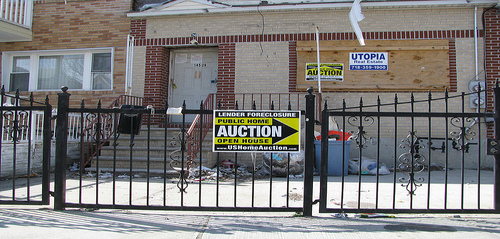 Real estate Q&A: "Are foreclosures listed on MLS?"
Foreclosures are plentiful at the moment, and though interest has grown for such transactions, not everyone is looking to scoop one up.
Though they could turn out to be bargain, they're more often riddled with delays and headache.
The good news is foreclosures are listed on the MLS, or Multiple Listing Service, which is fairly easy to access to for free.
A lot of local real estate agents allow you to peruse listings on the MLS via their personal websites; this is obviously a more cost efficient means of access than those sites that make you pay or register, but it typically only shows results within the area they cover.
Once you've found a local real estate agent's website that offers free MLS access, you can select certain criteria to narrow your search.
If you're looking for foreclosures on MLS, you'll probably be interested in listings that are active short sales, or those that are REO (real estate owned) or bank owned.
The latter are essentially foreclosures, so you can see what distressed property is selling in your area if you're interested in trying to snag one.
Keep in mind that the listing agent may not mention that the property is in foreclosure, or bank owned, so you may have to do some digging.
But you might be able to tell from the picture, price, or description that the property is in foreclosure as well.
Also, not all foreclosures make it on to the MLS for one reason or another, so be sure to check with your local bank(s) to see if there are any properties nearby that aren't listed.
Happy searching!