If you're curious whether it's the right time to buy that dream house, you may want to consider the local rents in the area.
There are plenty of advantages to renting, like no down payment, the flexibility to move, and lower monthly payments.
At the same time, buying a home means more space, tax deductions, and possible home price appreciation (is real estate still a good investment?).
But some cities just seem to be too overpriced, no matter how you slice it.
Even though home prices came down over the past few years, they only really dropped from inflated, unsustainable levels, so the discounts are dubious at best.
Last week, Trulia calculated the price-to-rent ratio using the average list price compared with the average monthly rent on two-bedroom apartments, condos and townhomes listed on their website.
They found that in many cities it's still wise to rent rather than buy, because the associated costs are just too high.
Top 10 Cities to Rent vs. Buy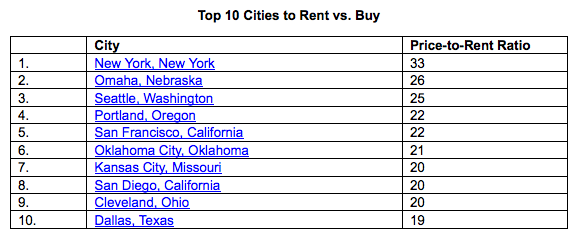 As you can see, renting in New York City is still the way go, as the cost of real estate is clearly astronomical. Surprisingly, the same is true in places like Omaha and Oklahoma City, meaning rents are still super cheap.
Remember, buying a home isn't always the wisest move, but obviously your decision should go beyond price.
Price-to-Rent Ratio of 1-15: It is much less expensive to own than to rent a home in this city.
Price-to-Rent Ratio of 16-20: It is more expensive to own a home in this city. The total costs of ownership of a home in this city are greater than the costs of renting, but it might still make financial sense depending on the situation.
Price-to-Rent Ratio of 21+: The total costs of owning a home in this city are much greater than the costs of renting.