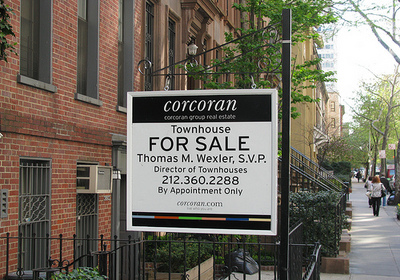 New York metro area home prices are expected to fall another 40.6 percent from the first quarter of 2009, according to Deutsche Bank.
It's actually an improvement from an earlier prediction, when home prices were slated to fall 47.4 percent, but it's certainly not good news for New York residents, at least those that currently own homes.
Median homes prices in the New York metro fell to $446,000 during the first quarter, down 19 percent from a peak of $552,000 set in the second quarter of 2007.
Overall, Deutsche Bank expects a peak-to-trough decline of 52.1 percent.
The good news is home price affordability could slip to levels last seen in the late 1990s, though the bank analysts are using a five percent mortgage rate to come up with those numbers.
Mortgage rates have since risen to about 5.50 percent, so it's questionable how affordable home prices will actually be.
Then there's the fact that the median home price is skewed because mainly lower-priced, distressed properties are selling, whereas high-end stuff is still largely off the market or simply not selling as frequently.