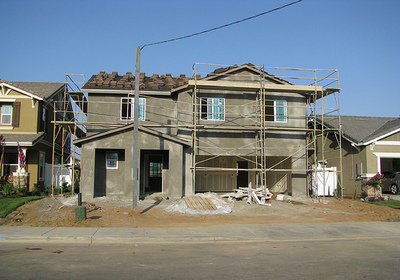 Here's a sliver of good news, though it needs to be taken with a big grain of salt, or perhaps some sawdust.
New home inventory slipped to its lowest point since May 2001, according to government figures highlighted by the National Association of Homebuilders.
The inventory of new houses for sale declined 4.2 percent to 297,000 units in April, which puts current inventory at a 10.1-month supply at the present sales pace.
Meanwhile, sales of newly built, single-family homes inched up a tiny 0.3 percent to a seasonally adjusted annual rate of 352,000 units during the month from March.
"The fact that the new-homes inventory is now below the 300,000 mark shows that builders have made substantial progress in winnowing down their backlogs to a much more comfortable level," noted Joe Robson, chairman of the National Association of Home Builders (NAHB) and a home builder from Tulsa, Oklahoma.
"This continued reduction in the new-homes inventory helps bring supply in line with demand, which is an important step toward the market's recovery. We can expect the pace of new home sales to bounce along the bottom a bit before picking back up towards the end of this quarter," added NAHB Chief Economist David Crowe.
Unfortunately, home builders have left behind scores of large dirt lots and unfinished homes next to newly constructed homes, making nearby properties less attractive for would-be buyers.
And many of the homes that have been sold in these communities are back in foreclosure, wreaking even more havoc on neighboring home prices.