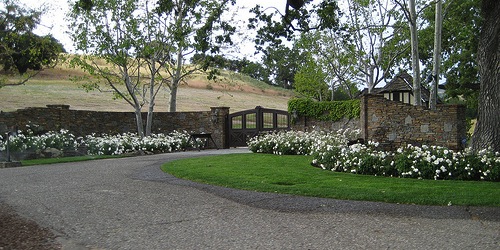 The loan tied to the 2,700 acre Santa Ynez Valley ranch-cum-amusement park owned by Michael Jackson is apparently in default.
If the $23 million dollar loan and subsequent interest (believed to be $212,963) aren't made up-to-date, there is a chance that the property could be foreclosed upon.
It's unclear what type of financial shape Michael Jackson is in, but it's doubtful that the current real estate bubble burst has anything to do with it.
Though it's unlikely that Jackson's property was financed with a high-risk mortgage, even if it was, the current housing shake-up shouldn't be enough to stop a multi-millionaire from making his mortgage payments.
Regardless, the property could add to the growing number of foreclosures currently being chalked up throughout the country.
Earlier this year, Jackson closed the house on his Neverland Ranch and laid off some of the employees there after he moved to the middle eastern country of Bahrain.
(photo: Jeremy Reding)