Plenty has changed over the past four years in the real estate world.
Home prices have plummeted, large banks and mortgage lenders have gone out of business, and millions have received foreclosure notices.
But as the dust begins to settle, opportunities will present themselves, and as I always say, real estate is local, so some areas will recover faster than others.
Back in 2006, 213 of 299 metro areas were considered overpriced, according to a survey conducted by National City Corp. and IHS Global Insight, and reported by CNN.
Today, just 87 markets are considered overvalued, thanks to massive price declines nationwide.
Some markets have become less overvalued, such as Atlantic City, which was 59% overvalued in 2006, and now only 30.2% over market price.
Conversely, Wenatchee, Washington was 13% overvalued in 2006, and now 28.9% above its fair market value.
Here are the top ten most overvalued cities in the United States at the moment: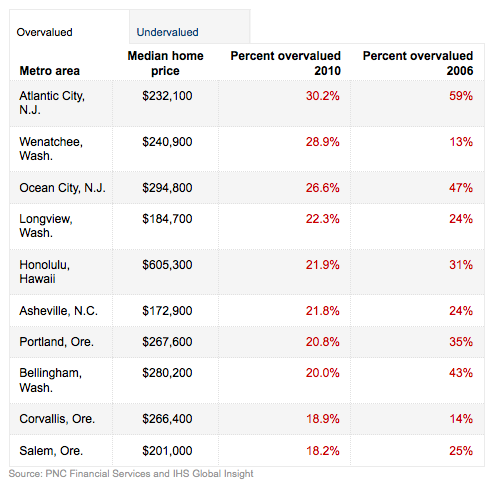 Take a look at the complete list here to see where your area stands. This information could be helpful in making a decision to buy, sell, or invest (Is real estate still a good investment?).